CUISINE
TASTE Wilanow is one of the first restaurants in Poland to promote the latest global trend – Honest Cooking. This is a combination of the well-known Slow Food style with great attention to the quality of the products and their usage in the kitchen.
Honest Cooking means seeking the finest products and extracting their best natural flavours. The dishes served in TASTE Wilanow are created with the highest quality ingredients, using the most modern equipment and technologies used by master chefs around the world.
Our chef chose ingredients to prepare meals in our restaurant during his travels across Poland and Europe. He went to meet the owners of organic farms growing vegetables. He buys fish and meat only from trusted suppliers.
In TASTE you can find a wide selection of meats, fish and seafood. The steaks are made with seasoned beef and are prepared exactly as guests like them. Chef surprises guests with interesting dishes prepared with the products available in a given season. Here you can find out what red clover, sweet violet, orange blossom and marigold taste like.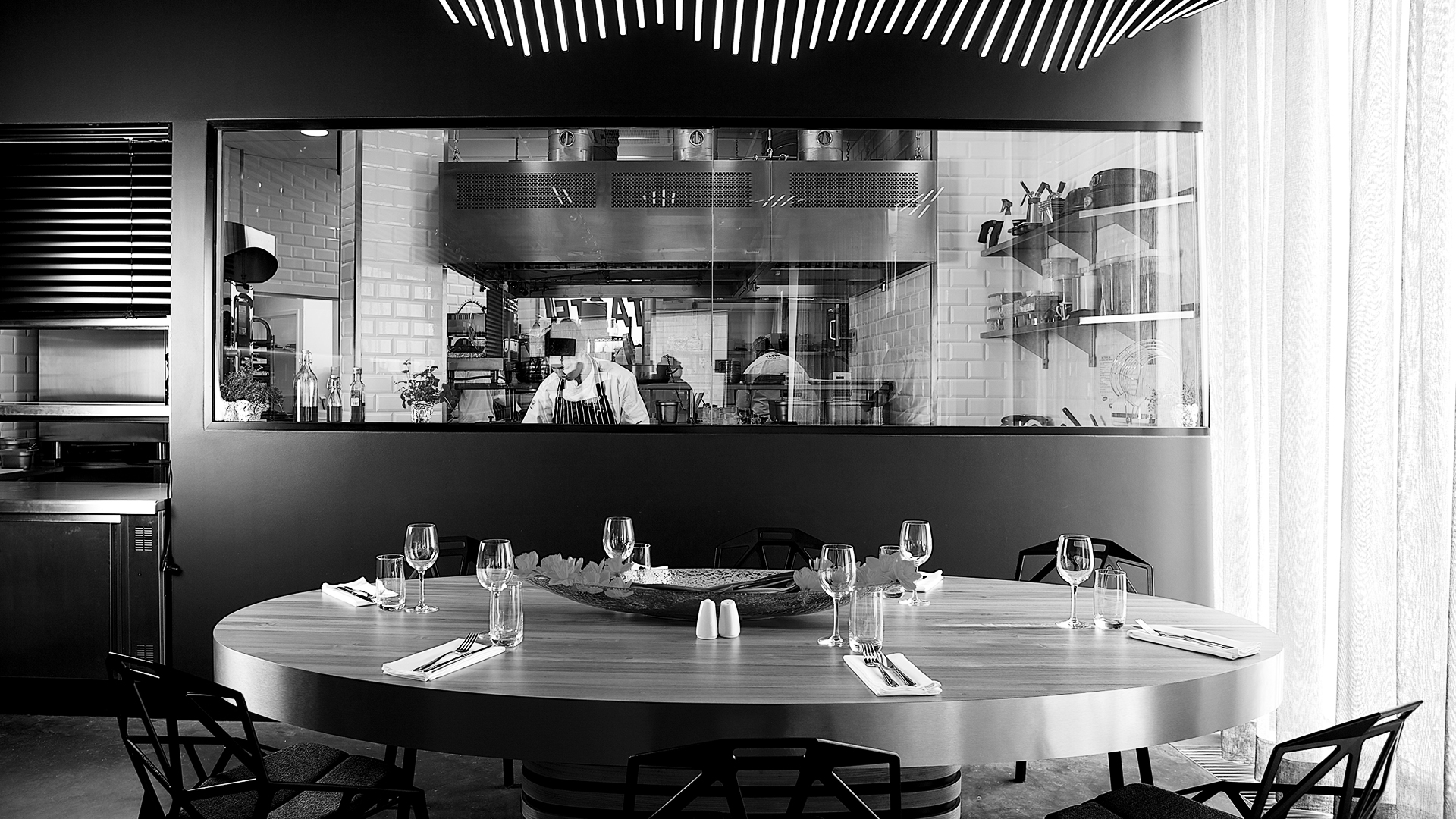 Chef's Table
Restaurant invites you to a very special place – Chef's Table. It is just in front of a huge panoramic glass separating the restaurant from the kitchen. Those of you who sit beside it will be able to watch – as the audience in the theatre – the on-going presentation of cooking just behind the glass. Every day our team provides a unique show creating art from food.
In western restaurants Chef's Table is usually reserved for VIPs. In TASTE Wilanow everyone can sit down beside it and feel special. Simply book it in advance.
At the Chef's Table we reveal some secrets of our culinary philosophy, advise what to eat and we suggest unique dishes. We make every effort to ensure that your meal at Chef's Table is not only a treat for the senses, but also an aesthetic experience.
The table has a unique design, made of acacia Wood and it is over two meters long. A beautiful lamp Vibia Rhythm, manufactured by the world–famous Spanish company, stretches its arms above it. Each day the lamp may look different due to the possibility of setting its luminous arms into various shapes.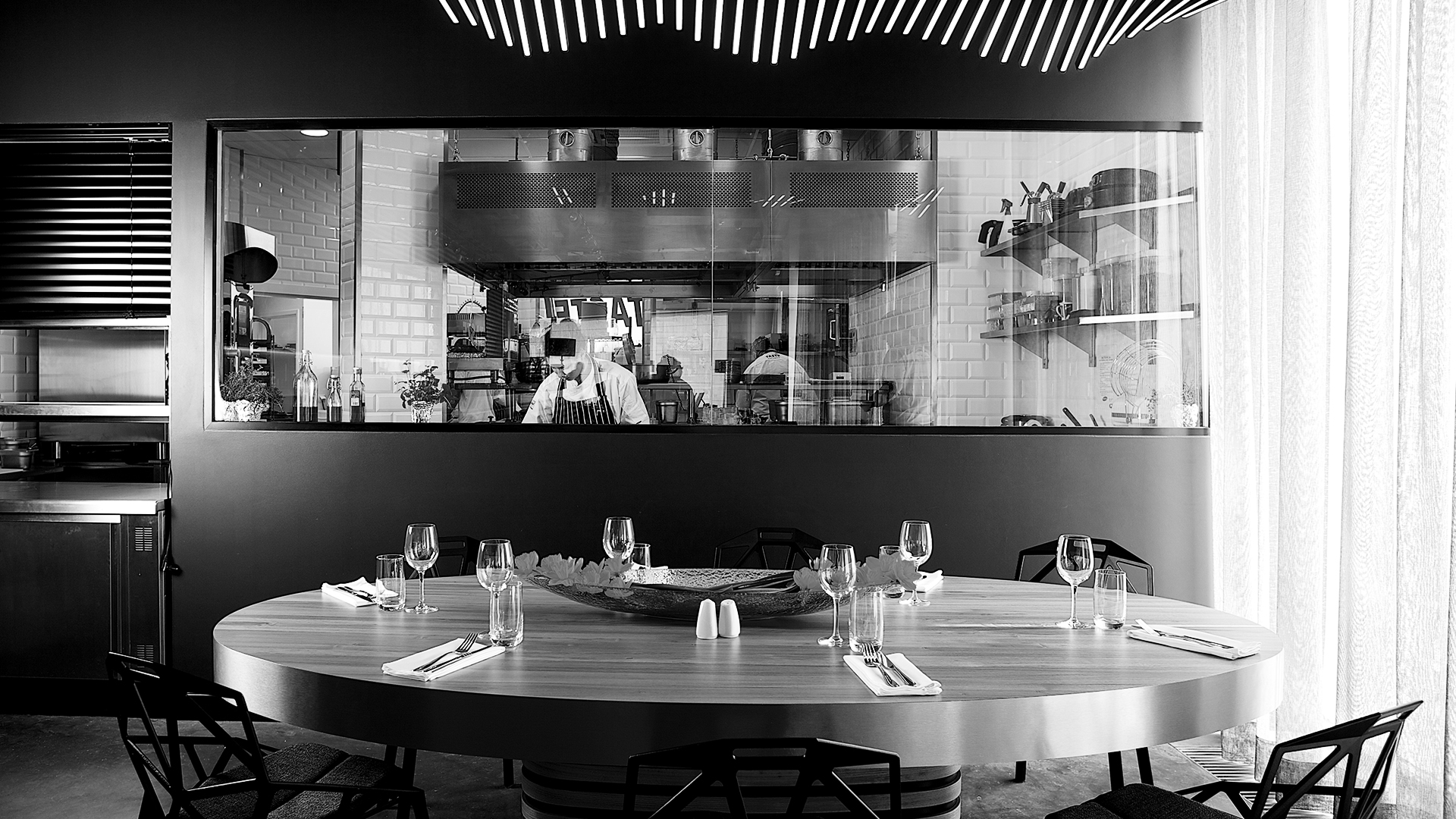 DESIGN
The interior of TASTE Wilanow has a subtle, warm atmosphere, through a combination of glass, acacia wood and graphite concrete. It was designed in a minimalistic decor, without flashy extras. It is dominated by white, black, graphite and natural wood colour.
The central point of the restaurant is the several meters long, solid, yet elegant bar built with wooden joists. Behind it, on the anthracite wall on illuminated shelves stand spirits from around the world. The joists on the walls are made of the same wood as the bar. It's very hard, durable acacia wood of exceptional colour.
Custom made tables have been specially designed so that you feel comfortable by them. Backs of chairs are neither too hard nor too soft, they have the perfect length and width. We wanted them to be comfortable for guests of various physiques and heights. Before we chose the chairs, we tested them on our friends and colleagues.
We invite those who want to celebrate a special occasion or just enjoy the food in a special place to our Chef's Table. Extending its arms right above is the modern original lamp Vibia Rhythm which thanks to the movable elements may take a different shape every day.
BAR
Several meters in length, original, elegant bar stands in the centre of the restaurant. It is built of massive wooden joists. Behind it on the anthracite wall, on lighted shelves stand alcohols from around the globe. Surely everyone will find something very special for himself.
Guatemalan Rum Zacapa XO matured in oak barrels for 25 years. It is manufactured using solera system, which involves mixing young with older vintages. This ensures the continuity of quality and gives Zacapa an exceptional flavour, which combines perfectly with the sweetness of fruit and a note of bitterness.
Whiskey lovers can enjoy excellent Jack Daniel's Single Barrel. In the bar there will also be other fine spirits, such as twelve year old Metaxa Grand Reserve, Saffron Gin Hendrick's, Tanqueray No.Ten, or Tequila Patrón.
Coffee lovers will appreciate latte or espresso made from Italian high quality Cellini coffee beans. For people who want to eat healthy food, the bartender offers freshly squeezed juices and smoothies, made of fruit, vegetables or fruit mixed with vegetables.